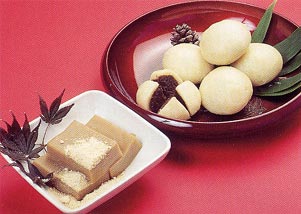 Certification year
1997
Type of certification
traditional Cousine
Main area
Noda village
Introduction of cooking
It has a unique flavor and taste not found in azuki and green beans, and it blends well with brown sugar. Originally, it was preserved as salvage food, but it has been attracting attention due to the natural food boom.
material
1 kg of flour, 500 g of black bean paste, 500 g of brown sugar, 150 g of white sugar, 400 g of white sugar, a little bit of salt
How to make
1. Dry the skin well in sunlight. (It is good to stick with a beer bottle and beat it with beer bottle)
2. Boil softly while taking shisumi with ash water. Boil while replacing many times. (10-15 hours)
3. Dehydrate the boiled stock and dehydrate it, smash it with your hand, mix brown sugar and white sugar, and a little salt to make a sauce.
4. Boil the flour with water, make a crust of dumplings, add soy bean paste and round it, and steam it with a steamer.
Cooking point
1. The sun-dried stock can be stored for many years. It is possible to use it when needed, as it is frozen after cooking. It is important that you take a good bite with lye. Nutritional components are also comparable to polished rice, and in particular calories, proteins, lipids and carbohydrates have as much nutrients as white rice.

"Shida Midori" of the Shidami Tradition Group
The name of the store Roadside station "Noda" San direct production
Place Noda village character Noda 31-1 3
Telephone 0194-71-1700
HP address http://www.noda-kanko.com/kankou/shop/sanchoku-purple.html
http://www.thr.mlit.go.jp/road/koutsu/roadstation//iwate/iw07.html
Business day/
Opening hours 8: 30-18: 00
Regular holiday First Tuesday of every month
Explanation "Sadness" means "Acorn". 200 yen with 2 pcs.