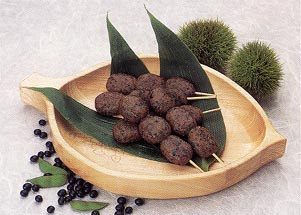 Certification year
2000
Type of certification
New local food
Main area
Miyako
Introduction of cooking
Healthy bean paste made with black bean curd
material
(25 pieces) Black bean okara ... 500 g, flour ... 300 g, sugar ... 80 g, salt ... 3 g, sauce (simmered with soy sauce 1 at a ratio of 0.5)
How to make
1. Mix sugar, salt and flour in the okara and knead well. When it's moist, make a 30g bun and fix it.
2. Boil it with plenty of hot water and give it to the colander when it rises.
3. When it's drained, put it in a large bowl while it's hot, put a sauce from the top, and squeeze evenly into buns.
4.2 Pour each one into a bowl.
Cooking point
1. Knead well. It is well-kneaded and soft and finished softly.
2. As the bean paste of black beans is less sticky than the bean paste of white soybeans, add a little more flour to moisten it.
3. Add hot water if there is not enough water in okara.
4. Boil the dumplings and entangle the sauce while it's hot.

Mie Sawaguchi's "Orange of black beans"
Store name Miyako city Yamabiko Sangyo direct hall local cuisine corner
Place Miyako Ichikawa 8-2
Telephone 0193-85-5011
FAX 0193-85-5012
HP address http://www.kawaimura.com/yamabiko.html
Business day/
Opening hours 9:00 to 17:00
Regular holiday 7 days a week
Description 1 pack (with 2 pieces 串 5 bottles) 200 yen