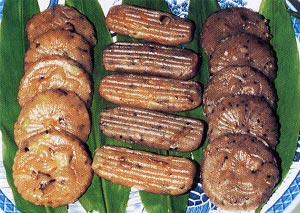 Certification year
1996
Type of certification
New local food
Main area
Hanamaki
Introduction of cooking
It is a nutritious "seasoned rice-flavored rice cracker" that contains walnuts and sesame seeds in a traditional diet, and seasoned carrots, shiitake mushrooms and boiled green beans in an arrangement dumpling. It is also suitable for children's snacks.
material
(For 55 pieces)
Uru flour ... 1 kg, zarame ... 500 g, carrots (medium) ... 1 piece, dried shiitake ... 10 sheets, green soybeans (watered) ... 1 cup, soy sauce ... 100 cc, water ... 5 cups
How to make
1. Return the green beans and boil them.
2. Please dry dried shiitake.
3. Boil the soy sauce and 5 cups of soy sauce and water (use the dried shiitake soup and add the water if it is not enough) in a pot to boil and leave the flour in a fine heat quickly, knead well, from a fire Grate it down and let it sit for about 2 hours.
4. Shredded carrots and dried shiitake are salad oil, so season with soy sauce and soy sauce, and drain.
Put green beans, 4 carrots, and dried shiitake in 5.3, and knead quickly. (At this time, even if it's a little soft, don't add any flour!)
6. Shape into a suitable size and steam for 15 minutes.
Cooking point
1. Put flour into the boil and let it boil quickly.
2. Well drain the carrot and shiitake.
3. Take as long as possible, then let it go for about 2 hours.

Keiko Kumagai's "Arrange dumpling"
Store's Name Mother-Chan House Dasuko
Place Hanamaki City Noda 335-2
Telephone 0198-24-2914
FAX 0198-24-9670
HP address http://www2.pref.iwate.jp/ ̅hp0505 / syoku / shisetsu01.html
Business day/
Opening hours 9: 00-18: 00
Regular holiday January 1 to 3
Explanation Arrange dumpling 300 pieces with 300 pieces, 300 yen with 5 pieces of rice cracker, 300 yen with sesame rolls, 300 yen with 8 pieces of sesame seeds, 300 pieces with 8 pieces of agarase, 200 pieces with 5 pieces of soybean silver sugar