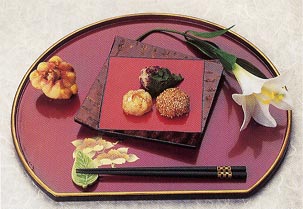 Certification year
1999
Type of certification
New local food
Main area
Ichinoseki
Introduction of cooking
It is a new local food using the mountain lily root.
material
(5 people) rice ... 150 g, glutinous ... 60 g, starch powder ... 200 g, milk ... 300 cc, lily root ... 3 to 4 balls, white sesame ... 50 g, large leaves ... 5 pieces, three hot sugars ... 50 g, soy sauce ... little, Yukari ... 10g, powdered sugar ... a little bit, fried oil ... appropriate amount
How to make
1. Add rice and rice with about 3 pieces of lily root in a bowl and cook rice.
2. Cool a little.
Put 3.2 rice in a bowl, add 150 g of starch powder and 200 cc of milk little by little, and knead it into a hard earlobe.
4. Put 1 cup of lily root into it, roll 3 into a bite-sized size, and boil it with plenty of boiling water.
5. Heat the water with running water and give it to the colander.
6. Make three-colored dumplings.
【A. Sesame taste】
1. Boil the sweet potato (80 g), a little soy sauce, water (50 cc), add 5 dumplings and sprinkle with white sesame seeds.
【B. Shiso taste】
Put Yukari in a 1.5 dumpling and wrap it in large leaves.
【C.
Embed the lily root in 1.5 dumplings and boil it after rounding. Deep-boil the boiled material and sprinkle with powdered sugar. (It may be soy sauce)
Cooking point
1. Raw storage of Lily Root is difficult, so it can be used anytime by loosening it into pieces, steaming quickly, and putting it in a sachet for freezing and storage.
2. As a health food to prevent adult disease, and as an arrangement of nostalgic regional cuisine, we made a mixed dumpling of sesame seeds, leeks and lilies.
3. In order to make the most of the deliciousness of lily root, put it in dumplings.

Satoko Noriko's "Yurine Dumpling"
Contact Ichinoseki City Nagayama Nakayama 43-13-13
Telephone 0191-47-3550
Explanation Yuri is a seasonal limited edition product (October-April) Reservation is one month ago.