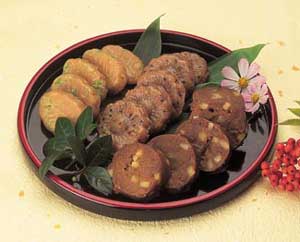 Certification year
1998
Type of certification
traditional Cousine
Main area
Hanamaki
Introduction of cooking
A traditional snack in the rice zone in the central part of the prefecture. It is sugary and has a luster and good taste that brings out the flavor of the material well.
material
(60 to 70 pieces) 1kg of luke powder, 7 cups of water (1,400cc), 100g of walnuts, 20g of sesame seeds, soy beans, seasoning, etc. 100g to 200g of sugar, 100cc of soy sauce, 1 tablespoon salt
How to make
1. Return the soybeans and boil them.
2. Put 7 cups of water in a pot, seasoned with sugar, soy sauce and salt, and cook on a fire.
After 3.2 boil, put the flour on a low heat, put the flour on a hot sauce, knead with a spatula or a scoop, mix well, and simmer overnight.
4. At this time, save 1 cup of powder as it will be used for powdering
5. Pour the flour into a mortarboard and mix well, then add crispy walnuts, sesame seeds, and soy beans and mix until well-washed.
Put 6.5 into a mold, shape and steam over high heat for about 15 minutes.
Cooking point
1. In order to finish with a certain "Kirishinso", let it go overnight. Also, mix well with chopped walnut oil until it is shiny.

Mr. Toshi Otsuki's "Cruncher"
Contact Takasaki 6-3, Hanamaki City
Telephone 0198-23-6628
Explanation It is arranged so that the traditional taste is combined with the modern taste and the children are satisfied. Demonstration guidance is limited to the area around Hanamaki.