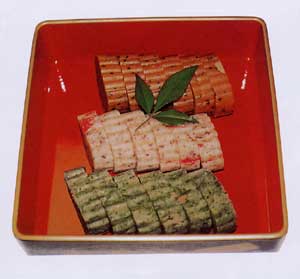 Certification year
1996
Type of certification
traditional Cousine
Main area
Rikuzentakata City
Introduction of cooking
The rice cakes in the rice shortage era were very valuable as true "hospiting" cakes. It started with making rice flour by making rice flour, and it was a practice for mothers to make handicrafts in the busy interval on the tray and New Year's Day and hand them to relatives and children who return home to them as handicrafts.
material
(300g4) [Miso flavor] 500g of rice flour, 250g of white potato, 250g of white sugar, seasoning (such as cinnamon), 50g of miso, 2 cup of water, 30g of walnuts, 5g of sesame seeds [saltiness] 500g of rice, 250g of gelatine , 250 g of white sugar, 0.5 tbsp of salt, 5 g of pepper, 2 cups of water, 100 g of wormwood (returned to water), 30 g of walnuts, 2 tbsp of sesame seeds
How to make
1. Put flour, sesame, miso and flavor in a bowl and stir well.
2. Boil 2 cups of water.
3. Stir in boiling water while pouring into 1. When I'm done, I'll go for a while.
4. Raise the steamer and spread the cloth. Pour the flour into pieces. Steam it over high heat. When steaming with gas, it takes around 20 to 25 minutes, and when steaming with steam, it takes around 15 to 20 minutes.
5. After raising, pour into a bowl, add sesame and walnuts, put white sugar in your hand, and put enough pressure on the bottom of the bowl.
6. Make your own shape if you lose white sugar.
7. Combine starchy starch for summer, brown sugar (2 tbsp) for winter, soy sauce (0.5 tbsp), water (5 tbsp), simmer and cool.

"Yubeshi" of Chie Kumagaya
Contact Rikuzentakata City Hirotacho 7-2
Telephone 0192-56-4053
Explanation Yubeshi with spices, I will deliver to a near-field demonstration.