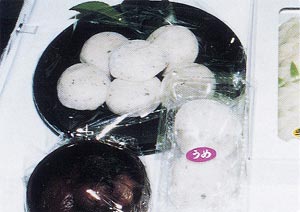 Certification year
1996
Type of certification
Specialty products
Main area
Miyako
Introduction of cooking
Daifuku mochi is created at festivals, events where people gather, and so on. It is ume daifuku in accordance with the creation of ume villages in Niisato.
material
(For 45 pieces)
Peel rice Sticky rice ... 1.5 kg, Shino leaf (canned plums) ... Appropriate amount, plum juice, eating red ... Appropriate amount Anchovy white rabbit ... 1.5 kg, white sugar ... 1.3 kg, salt ... 20 g
Cured pickled plum nuts
How to make
1. Wash the glutinous rice, soak it in water overnight, drain the water and steam it.
2. If you lose your mind well When the rice grain is gone, add the pickled plum with the candied plum, its leaves, the plum juice, and a small amount of garnish (slightly colored) and add well.
3. Boil the rabbit softly, rub it, season with sugar, and boil it well.
4. Put 45 mochi (about 50 g) into mochi, put ang (30 g) and 1⁄4 of ume plums in it, make daifuku mochi, and sprinkle with starchy flour.
Cooking point
1.Mochi rice is thick and soft, and if you make it to Daifuku, you can peel off the surface, so let it cool and then roll it around (warmth like human skin)

"Ume Daifuku" by Atsuko Sasaki
Store Name Niisato Furusato Product Center
Place Miyako-shi Shigeshi 5-24-1 (along National highway No. 106)
Telephone 0193-72-3388
FAX 0193-72-3585
Business day/
Opening hours 9:00 to 17:30
Regular holiday every Wednesday
Explanation "Ume Daifuku" 3 pieces 300 yen, Soba Daifuku 3 pieces 350 yen, Kuri Daifuku 3 pieces 350 yen, Flower Hydrate 3 pieces 300 yen, Dashi 4 pieces 300 yen
Remarks Order sales Home 0193-72-2463