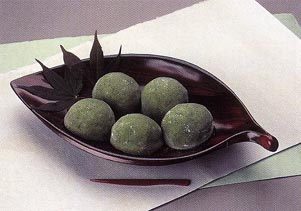 Certification year
1999
Type of certification
traditional Cousine
Main area
Hanamaki
Introduction of cooking
It is a momi manju made with entrusting the blessings of Yamano to a manju.
material
(40 pieces)
【Mochi】
Glutinous rice (Himano mochi from Hanamaki City Towa Town) ... 1 kg, Yomogi (boiled, minced with a pestle, etc. and dampened with water) ... 140 g, Heavy sow ... approx. Wheat flour ... 5 g, starch starch ... a little [An]
Azuki ・ Iwate Daigongon ... 700 g (boiled state ... 1 kg), rough ...
How to make
【Mochi】
1. Mochi rice is soaked in water for about 5 hours and then steamed for 30 minutes.
2. After cooling, simmer for about 25 minutes, soak in cold water, cool, mix in wormwood, sugar, salt and flour, and cook for 7 to 8 minutes.
【Anne】
1. Soak the azuki bean in water for about 3 hours, then scoop the cochlea by hand and drain off (this will allow the sand and debris to be taken well).
2. Boil from water, once simmer, throw away the water and simmer for about an hour and a half.
3. Add boiled sugar to the boiled red beans, boil for 1 hour while stirring with low heat, and add salt to finish.
4. Wrap the bean paste in the dough and finish the steamed bun. (Use potato starch for flour)
Cooking point
1. Once the rice cake is boiled, take it quickly in cold water and soak twice.
2. All materials used are only those collected in-house or in Yamano in the town.

Chie Nitta's "Yomogi Manju"
Store name farm products direct sale place "Aozora"
Place Hanamaki City Towacho Anhui 6 Ward 94
Telephone 0198-42-3152
HP address http://www2.pref.iwate.jp/ ̅hp0505 / syoku / shisetsu02.html
Business day/
Opening hours 9: 00-18: 00
Regular holiday
Explanation Yomogi steamed bun 5 pieces 400 yen, Kibi steamed bun 5 pieces 400 yen, buckwheat steamed bun 5 pieces 400 yen, crisping dish 5 pieces 300 yen
Store name Mahoroba no Sato product center
Place Hanawaki City Towa Town Tsuchizawa 6 Ward 107
Telephone 0198-42-2058
FAX 0198-42-2620
Business day/
Opening hours 9: 00-18: 30
Regular holiday January 1st to 3rd, 2nd Wednesday of every month
Explanation Yomogi steamed bun 5 pieces 400 yen, Kibi steamed bun 5 pieces 400 yen, buckwheat steamed bun 5 pieces 400 yen, crisping dish 5 pieces 300 yen