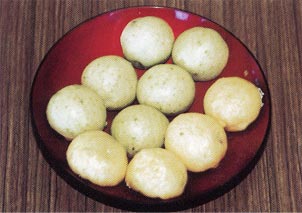 Certification year
1996
Type of certification
Specialty products
Main area
Oshu
Introduction of cooking
Traditionally made steamed buns with peppers specially prepared from Gyeongsan-gu.
material
(40 pieces)
Flour ... 300g, peppers ... 150g, baking soda ... 2/3 tablespoons, baking powder ... 1 tablespoon, sugar ... 150g, vinegar ... 1 tablespoon, liquor ... 2 tablespoons, kneading sauce ... (about 20-30g per piece)
How to make
1. Add baking soda and baking powder to flour and sift.
2. Remove peppers and seeds and cut them into pieces.
Add vinegar and sake to the peppers in 3.2 and put in a mixer.
Mix sugar and flour in 4.3, knead softer than earlobe and let to rest for 20-30 minutes.
5. Roll the bean curd. Wrap the bean paste in a batter of 4 and steam for 5 to 6 minutes with a high heat steamer.
Cooking point
1. It is important to put vinegar and liquor in order to put out the softness in order to put out the peculiar green smell of raw green pepper.
2. If the steaming time is extended, the color of the green pepper will disappear, so it is important to make it 5 to 6 minutes.

Green pepper wharf of handmade wharf tradition group
Contact Us Wakayanagi Sodenocho, Ozawa-shi, Iwasawa-ku 209 (Representative Kamei Kyoko)
Telephone 0197-46-2183 (FAX)
Explanation Delivery to the neighboring municipalities is possible.