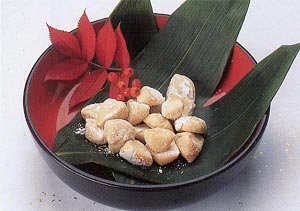 Certification year
1998
Type of certification
traditional Cousine
Main area
Nishiwaga
Introduction of cooking
It is a sweet potato with the natural sweetness of glutinous rice and malt. It is known as the "Waga no Uta".
material
(About 200 pieces)
1 rice, 1 malt, 50 g of malt, 200 g of wheat flour (tow flour)
How to make
1. Soak the barley well, put it in a cloth bag, place it in a warm place and grow the sprout to about 1 cm to make a barley sprout (malt).
2. Loosen and dry the malt that has been made, and pat it with a thin layer.
3. Put rice bran in water overnight, add 3 times as much water and simmer in a bowl.
4. After putting your finger in place (about 60 degrees), add 2 malt and stir, keep at 56 to 60 degrees and keep overnight.
5. Put this in a cotton bag, squeeze, simmer and simmer for 8 hours while stirring. As a rule of thumb, until it is tenacious and big bubbles come out.
6. Catch the boiled salmon with a key and pull it over and over again.
7. When it turns dark blue to white, take it on flour, stretch it into a stick and cut it with a knife.
Cooking point
1. Boiled boil of salmon is point. It won't shape if it's too soft, and if it's too hard it's harder to pull.
2. Currently, malt is frozen and stored for immediate use.

Sato Tada's "Tankiri-don"
Contact 1-90 Nishizawa Wakamachizawanai Izumizawa
Telephone 0197-85-2351