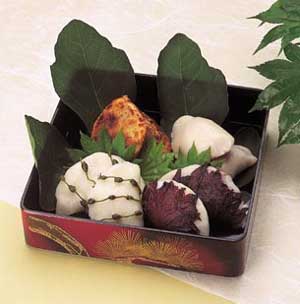 Certification year
1998
Type of certification
traditional Cousine
Main area
Morioka
Introduction of cooking
I use rice and flour for the skin of a omelet. It is said that the name "Kamayaki" came from the fact that it is made in the form of salmon with snacks that are familiar to the Morioka region, and that it is eaten at salmon and violet.
material
(Approx. 20 pieces) 1 cup of rice bowl (about 200 g), 3 cups of flour, 150 cc of water an ... A cup of 3 tablespoons of miso, 3 tablespoons of sugar B: 100 g of seeds, 50 g of sugar, a little bit of salt
How to make
1. Angi prepares each ingredient together.
2. Mix the rice and flour, add water little by little in it and stir for about 30 minutes.
Divide 3.1 into 20 equal parts and add an A or B ann to make it oval. At this time, put together so as not to leave the bean paste inside.
4. Put 2 in boiling water and boil it, then scoop it up.
Cooking point
1. When cooking rice and flour, soften with lukewarm water.
2. Boiled or boiled "boiled bean curd" with a tasteful taste, and its leaves should be soaked in saline solution for 1 hour and used after draining.
3. For children and young people, you can enjoy it with milk instead of water, or with various devices such as minced meat and ingredients, and fried with oil. When frying in oil, don't stuff in miso sauce, put on the surface and fry.