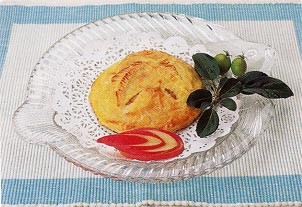 Certification year
2000
Type of certification
Specialty products
Main area
Oshu
Introduction of cooking
Baked confectionery wrapped in boiled apples of luxury "Fuji"
material
(4 pieces of 12 cm in diameter) Weep flour ... 170 g, strong flour ... 80 g, butter ... 250 g salt, 1 teaspoon, cold water ... 125 cc, egg yolk ... 2 pieces, apricot jam ... little, apples ... 4 pieces (medium), sugar ... 60g, 1 lemon, 1 cinnamon, a little bit
How to make
1. Cut half of the butter into flour as finely as possible, add cold water, mix with a rubber spatula and mix, and cool in a refrigerator for about 30 minutes.
In a floured bed, mix the remaining butter with cold dough as it is mixed, and repeat several times until the thickness of the upper and lower dough is even.
Wrap the dough in a wrap and heat in a refrigerator for more than 30 minutes.
2. Peel the apples, cut into 8 pieces in a comb shape, remove the core, release in thin brine and drain. Sprinkle sugar and wait for a while. When the water comes out add lemon juice and simmer over low heat.
Place the puffed dough in a circle of 12 cm in diameter, add a little more boiled apples, and place the puffed dough on top of the puffed dough. The skin of the pie, add a little water to the egg yolk, brush it with a brush, and bake it in an oven heated to about 180 degrees for about 20 minutes. While hot, finish with apricot jam to finish.
Cooking point
1. Among apples, "Fuji" which has good sun but uses less acidity, so it was extracted by simmering the apple with lemon juice.
2. After arranging the shape to "apple leaf pea" using the cut corner, the feeling like "apple pie" came out and the dream came puffy.
3. We use a lot of apples specially produced by Esashi to make products that can be done because they are apple shops. I use apricot jam as a final finish of lighting, but it looks shiny and I really want to eat it.
4. It is necessary to adjust the amount of sugar as the sugar content differs depending on the apple.

Atsushi Ozawa's Esashi Fuji's "Appletsu (Appletsu)"
Store name Esashi Furusato Market
Place Oshu City Esashiku Ehime Kanaya 83-2
Telephone 0197-31-2080
FAX 0197-35-8239
HP address http://jaefurusato.jaesashi.or.jp/
Business day/
Opening hours 9: 00-18: 00
Regular holiday New day only
Explanation Small (200 g) 400 yen, large (500 g) 1,000 yen