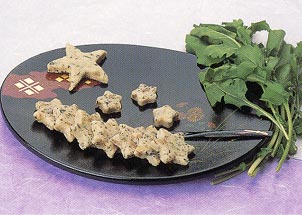 Certification year
2000
Type of certification
Specialty products
Main area
Oshu
Introduction of cooking
A confectionery like Gargar, which is a special product of Igawa-ku, and sweet potato like yam powder.
material
(10 servings) Hot wheat flour powder ... 200g, Kaminan flour ... 100g, flour flour (ground powder) ... 50g, white sugar ... 220g, gargiel ... 50g, walnuts ... 30g, skimmed milk ... 2 tablespoons of sesame seeds (black) ... 2 tablespoons Glass, milk ... over 300cc
How to make
1. Sesame flour and flour are sieved twice.
2. Boil the gargiel only with the leaf end and crush it finely.
3. Put the milk and white sugar in a pot, simmer, cook over low heat and put the sieved powder little by little so as not to spoil it and mix. (10 minutes to 15 minutes)
4. Remove the pot from the heat, add gargille and mix.
5. Put in a bowl of Kaminan flour, skimmed milk, chopped walnuts, and sesame seeds in advance, and put 4 in there and knead with your hand.
6. If you can get the rough heat, after shaping it is cut and finished.
Cooking point
1. Add the milk and sugar and put on a fire, so it is easy to burn and mix the flour while adjusting the heat.
2. Kneading enough is a good mouthfeel and softness knack.

Mitsuko Sakurada's "Manten star"
Contact Us Furuto 405 Igawa-ku, Oshu
Telephone 0197-52-4010 (FAX)
Explanation Delivery to the neighboring municipalities is possible.