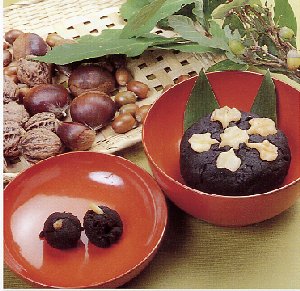 Certification year
1997
Type of certification
traditional Cousine
Main area
Iwaizumi
Introduction of cooking
What is stagnant is acorn. The acorn I just picked up is bitter and can not eat it. If you carefully pull it out, you will have a starchy, flaky, scaly shape.
Boiled soy sauce is seasoned with sugar and salt and boiled down as it is, and used as a staple food, or as a material for steamed rice dumplings, yokans, sweet sakes and sweet sakes. In recent years, the number of people who have the skill of punching has decreased.
material
Shidami (acorn) ... 1 kg, drilling water ... (1 kg of wood ash, 1.8 liters of water), water ... plenty
How to make
1. Add water to wood ash and stir. Pour it in a colander covered with a cloth and filter it, and make boiling water.
2. Remove the shell by using a mortar to dry the dried soybean paste and simmer in fresh water.
3. Discard the boiling water, add boiling water and simmer until tender. (The shade turns black)
4. Discard the boil, add fresh water, replace the water several times while removing the bitter taste, and drain.
Cooking point
1. Pick up seasonings in the fall and dry them well.
2. There are various ways of removing, but basically, expose with juice and water made of wood ash.