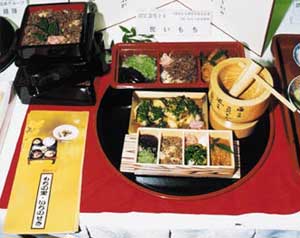 Certification year
1996
Type of certification
traditional Cousine
Main area
Ichinoseki
Introduction of cooking
The main ingredients are glutinous rice produced in Ichinoseki and special products (Edamame, Kakii beef, rape blossoms, fresh rice), etc., and it is sold as a convenient "Mochi bento" that adds a new idea to traditional kaki dishes.
material
Anko mochi: Koshian, Mochi 30g, Sliced Sui beef Mochi: Squid beef ground meat, Shiitake, Ginseng, Mochi 40g 1 piece Trip of Mochi 30g 2 Mm: Zumed mochi: Mochi bean paste (mushed edamame), Mochi 30g 1 Mm Mochi: 40 g of Mochi 40 pieces
How to make
1. Squid simmered with minced meat of shiitake beef mochi and shiitake beef, shiitake mushroom and minced carrot and burdock root.
2. Pack the bite-sized mochi, mixed with vinegar and simmered carrots and shiitake mushrooms in a fox excursion, a bowl, in a small-bowl with a taste.
3. Boiled rape blossoms and rape blossoms and prepare the taste with ginger and seaweed soy sauce.

Ichinoseki City mochi food spread promotion meeting, celebration mochi mochi debey's "celebration mochi lunch box", "delivery mochi tsukitsuki"
Store name JA Iwate Minami Furusato Center "Kori Sato"
Place Hiraizumicho Hiraizumi 字 34-13 JA Iwate Minami Furusato Center
Telephone 0191-46-4850
FAX 0191-46-4821
HP address http://www.pref.iwate.jp/nougyou/green/12336/003807.html
Business day / Business hours 9:00 to 17:00
Regular holiday Fixed holiday
Explanation "Congratulation rice box lunch" 500 yen single item rice cake 300 yen rice cake Main course 1,200 yen Reservation system ・ fare charge of group with chopsticks is complete set 35,000 yen (Ichinoseki city. 5 person dispatch. 3 rounds once with rice cake) remote place , Extra transportation expenses, equipment transportation expenses actual expenses burden