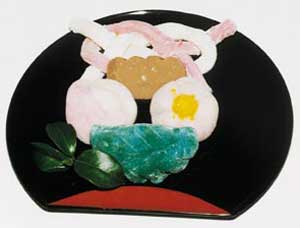 Certification year
1996
Type of certification
traditional Cousine
Main area
Ichinoseki
Introduction of cooking
In the old days, every occasion there was a ceremonial occasion to celebrate. Now, as part of the expansion of consumption of rice, tradition activities are carried out in each area and are being reviewed as traditional food.
material
(For 5 people)
1 kg of rice flour (wheat flour 7, glutinous flour 3), 150 g of sugar, 1 tbsp of salt, 1 kg of kneading sauce, a little starch flour
How to make
1. Mix the amount of sugar and salt with rice flour and boil with boiling water. Steam for 20 minutes with a steamer and immediately put in water to get rough heat.
2. Steam for another 10 minutes and knead well for the bowl. Apply red, yellow and green colors to a suitable size. Put the bean paste and make it like Daifuku mochi.
3. Make a form of plum and plum by using a chopsticks with Daifuku filled with ancho. Make the leaves with mochi and add them to each.
Cooking point
1. It is possible to make either rice bran or potato flour.
2. Make it like Daifuku, use a chopsticks, and make a shape of a peach or mochi.

Ishikawa Shigeko's "Sunny Bowl"
Contact Ichinoseki City Daitocho Shibaminami Wadazawa 133
Telephone 0191-75-4380
Explanation 1 month ago.