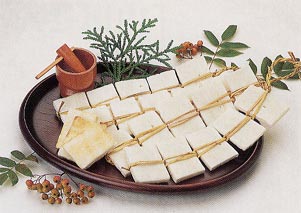 Certification year
2000
Type of certification
traditional Cousine
Main area
Tono
Introduction of cooking
It was frozen overnight in the cold and was dried and dried in an airy place.
material
(For 126 pieces) Sticky rice ... 5.25 kg, white sugar ... 1 kg, salt ... 20 g, water ... 4.6 liters
How to make
1. Soak glutinous rice in water for about 12 hours, then raise it and drain for 30 minutes.
2. Steam the glutinous rice with a steamer for 2 hours. Boil the steamed glutinous rice, and when the rice grains are gone, add all the sugar and salt, and add a small amount of water little by little. Add all the water and cook for another 5 minutes.
3. Put 2 mochi into at once in a mochi box covered with vinyl in advance. (Set to be about 4 to 5 cm thick)
As the surface becomes a little hard after 4.4 to 5 days, take out all the vinyl and turn over the rice cake. In addition, the whole is firmly fixed evenly and cut into 1 cm thick.
5. Spread the dried rice cake at the time of severe cold and freeze it overnight. Wrap the mochi in paper, knit it with straw from above, and dry it in a dry, well-ventilated area. (50 to 60 days)
6. Dried rice cake is eaten grilled with an iron plate.
Cooking point
1. Steam the glutinous rice well and boil it with a broom. Freeze in the cold of nature.
2. The amount of water to be added is large.
3. When putting mochi into mochi box, put it at a stretch. (Because air will cause cracking)
4. You can easily turn over by laying vinyl. In addition, both sides are finished neatly.
5. Cut the mochi into pieces one by one to prevent cracks and dry them.

Kazuko Fujita's "Dry rice cake"
Contact: Tono City, Tatsuma Ushicho Kami-Tsukeno beef 9-46
Telephone 0198-64-2503