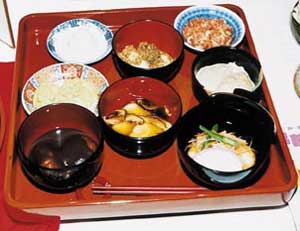 Certification year
1996
Type of certification
traditional Cousine
Main area
Ichinoseki
Introduction of cooking
In Sakai no Satohanazumicho, of course, there is a custom of making chopsticks as a hospitality dish, as well as annual events such as New Year and New Year holidays. There are three types of rice cakes, both festive and festive, and various glutinous dishes are served depending on taste.
material
(Celebration seat menu example) Anko mochi, Zonomi mochi, natto mochi, daikon mochi (Celebration menu example) Anko mochi, Zonomi mochi, ginger mochi, daikon radish
How to make
1. Ankomochi: Koshi bean paste, salt, and salt as appropriate.
2. Natto mochi: Natto, green onion, soy sauce or salt ... Add the seasoned natto into minced green onion.
3. Ebi-mochi: Numa shrimp, sake, chemical seasoning, salt ... Squid whole Numa shrimp with sake, seasoned with salt, and put mochi.
4. Boiled green soybeans: Boiled green soybeans, sugar, salt ... Put green soybeans in a mortar and mash them and adjust the taste with sugar and salt.
5. Zonomi mochi (holiday): radish, carrot shredded, burdock, thin slice, kamaboko (unlucky, deep-fried), shiri, seasonal vegetables (such as mitsuba, kinoshiya, spinach)
6. Ginger mochi: Dried Shiitake mushroom, carrot, root ginger, sugar, soy sauce, sake ... Shiitake mushroom, seasoned with ginseng, seasoned with starch, put in radish starch and add tori.
7. Fuso mochi (mochi mochi): Ground meat or ground chicken, burdock, daikon grated, sake, soy sauce, sugar As appropriate ... mix the grated vegetables into meat and make them into a mash and add them to mochi. You may add pungent taste.
8. Walnut rice cake: Walnut, sugar, salt ... Rub the walnut well and season it. Sometimes I put the tofu which was drained.
Cooking point
1.Mochi food is based on local procurement, using traditional ingredients produced in the town, such as glutinous rice, azuki beans, green soybeans, swamp shrimp, etc.
"Traditional salmon food" of Hanasen Deume Tsukitsuki Group
Contact Demae Mochitsuki Ichinoseki-shi Hanasen-cho Aizu-Tsu 36-1 Hanasen-cho Chamber of Commerce
Telephone 0191-82-3130
FAX 0191-82-3161
HP address http://www.echna.ne.jp/ ̅ hanasho /
Explanation Delivery charge Set-up about 60,000 yen (six people, 200 meals, twice with 3 bowls) Dispatcher's travel expenses Extra cost burden
Store name Dream of the old woman
Place Ichinoseki City Hanasencho Yushima Character Kamijogi 39 Yoshiki Sasaki
Telephone 0191-82-2722
FAX 0191-82-5076
HP address http://www.iwatetabi.jp/spot/detail/03209/372.html
Business day / Business hours 11:00 to 20:00 Reservation system
No regular holiday
Explanation One person from Hanasen Demai Kakitsuki group has started a farmhouse restaurant.
Yamana, 2,000 2,000 yen 4 or more 4 days before 2 days reservation required. You can taste four or more types of salmon and juice, one dish of wild vegetables, and an aperitif.
<