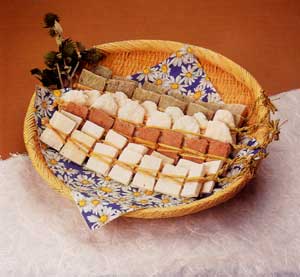 Certification year
1999
Type of certification
traditional Cousine
Main area
Ichinoseki
Introduction of cooking
It is a frozen sweet potato made with pokeweed leaves.
material
【Dumped rice bowl】
Boiled rice ... 2 pieces, pokeweed leaf (raw) ... 1 kg, baking soda ... 大匙 3, salt ... a little bit

【Okayusanmochi】
Rice glutinous rice 1 mixed sugary rice 4 mixed sugar 200 to 300 g salt, sesame seeds a little water 6 times the raw material
How to make
【Dumped rice bowl】
1. The pokeweed leaf is boiled in baking soda, exposed to water overnight, kept frozen and stored.
2. Soak rice and soak in water overnight, then raise the colander and drain the water.
3. Decompress burdock leaves, finely chop it into glutinous rice and steam it.
4. Attach with a rice cooker, pour into a crate box and leave for 2-3 days until it has a good hardness. (Thickness about 3 to 4 cm)
5. Cut the hardened chopsticks. (Size of 5 x 1 cm)
6. During the cold season, weave one by one with straw, soak in water for 3 to 4 days, then line up outside and freeze.
7.2 Stay frozen for about a week.
8. Hang in a well-ventilated place or well-ventilated place and dry naturally.
【Okayusanmochi】
1. Cook rice bran rice and glutinous rice with water five times, add the remaining water if simmered, and simmer for 3 hours over low heat.
2. Add sugar, salt and mix.
3. Put a box on a piece of vinyl and put on a bowl.
Freeze for 3 days and weave one by one with straw.
4. Hang in a well-ventilated place or well-ventilated place and dry naturally.
※ If you make it with a very soft chopsticks, it will not be delicious because it has no bite of frozen sweet potato.
※ Frozen sweet potato is fragrant and delicious even if it is baked with charcoal.
Cooking point
1. Finishing of processing is greatly influenced by the weather, so it is processed in anticipation of severe cold conditions.
2. When pokeweed leaves are added, the product is finished into a soft, savory and savory grape.

Onozenji's "Frozen" of Ayako
Contact Ichinoseki City Daitocho Ohara Sugawara 3
Telephone 0191-77-2228
Explanation Demonstration and cooking instruction during the winter season.