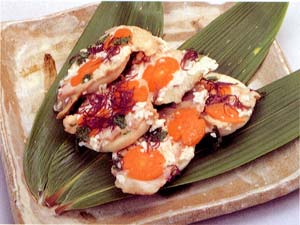 Certification year
1997
Type of certification
traditional Cousine
Main area
Nishiwaga
Introduction of cooking
It is a regional cuisine that has been handed down as a preservation technique for fish that can be said to be the wisdom of life unique to snowy countries.
material
Hokke, Turnip, Ginseng, Funeori, Turnip Leaves, Vinegar, Koji, Rice, Salt, Whitefish (as you like)
How to make
1. Take the skin of hokke and cut it into a large size, cut it into a mixture of vinegar and salt and lightly pickle it overnight.
2. Mix the hot rice and the apricot and leave it for a whole night.
3. Peel the kabuto into a thick round slice, take salt and soak in fresh water, and raise it for a while. I cut the carrot into a flower shape.
4. Mix salt and salt in this season and mix it in 4.2.
5. Pour the koji into the barrel, place the fish on the kabuto, pickle repeatedly in the order of carrots, fusori and koji.
6. Finally put fish skin, bamboo leaf, and press the lid tightly to avoid air, and put a weight on it. It is eaten in 10 to 15 days.
Cooking point
1. Choose fresh fish.
2. Careful attention to hygiene.
3. In addition to hokke, fish is also used in fish, fish, sardines, fish, etc. Vegetables, such as cabbage, are also used.

Takahashi Setsuko's "Sushi pickles"
Contact Nishiwakacho 40-40-36
Telephone 0197-82-3185
Explanation Deliverable demonstration anywhere in Iwate Prefecture. Performance period November-March