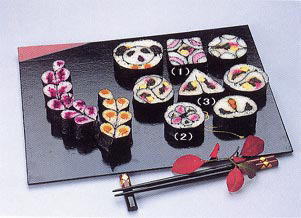 Certification year
1998
Type of certification
New local food
Main area
Ofunato
Introduction of cooking
It is Konohana sushi using the core of seaweed and wakame seaweed.
material
(For 3 people)
【Kotohana Sushi】
Nori seaweed ... 8 pieces, eggs ... 3 pieces, seasoned wakame seaweed core ... 150g, pickled radish, cherry blossoms ... 50g, spinach ... 100g, pickled medium cork ... 30g
【Including allocation and distribution of sushi rice】
Rice ... 1 per serving, sugar ... 100 g, salt ... 40-50 g, brewed vinegar ... 1 combination
How to make
(1) 【Mr. sushi made by sushi】
* Sushi rice and rice are well drained, soaked well, and cooked with a little bit of water.
-Quickly loosen the freshly cooked rice and mix the seasonings made with the proportions.
1. Add eggs, add salt and sugar to make a slightly thick omelet and cut into 5mm thick.
2. Make the spinach hard.
3. Boil the seaweed core with sugar and soy sauce and season.
4. Put sushi rice thinly on 1/2 of nori seaweed, and then cook it with chopped eel, egg omelet, spinach, seasoned wakame seaweed core, and thin rolls.
5. Make a thin roll with no ingredients.
6. Spread sushi rice mixed with rice bran on seaweed in 2/3, and add 5 to the core and roll in.
7. Spread sushi rice on a sheet of nori seaweed, and roll in 6 to make a triple roll.
8. After the product has cooled down, cut it into 4 pieces, put 2 pieces back to back, put 4 pieces in the center, put the remaining 2 pieces on it, and roll the whole with a sheet of 1 and a half of nori.
(2) 【Sakura-san Sushi】
1. The flower part of the center divides the seaweed into three equal parts, stretches the sushi rice thinly, and makes three balls and three spinach thin rolls to match.
2. Spread sushi rice thinly on a sheet of nori seaweed, combine 1 small rolls alternately, and wind 6 rolls into one.
(3) 【Triangle Sushi】
1. Spread the sushi rice evenly on a half and a half sheet of seaweed, set a hollow in the center, put the ingredients (all of the ingredients) on both sides and roll it from both sides.
Cooking point
1. The rice is well drained and flooded for more than one hour. Make sure to wash the rice before turning on the rice cooker, and rehydrate it again.
2. How to roll-Quickly winding tightly.
3. Simmer the core of Wakame so that it is not too soft.

Umezawa Hiroko's "Ryohana Sushi"
Contact Ofunato City Suesakicho Hosoura 52-1
Telephone 0192-29-2610
Explanation A pattern full of ideas is quickly rolled into sushi. A demonstration on delivery to anywhere in Iwate Prefecture.