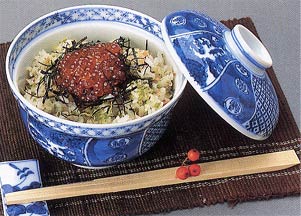 Certification year
1998
Type of certification
New local food
Main area
Iwaizumi
Introduction of cooking
It is a sushi with eel, how much, using raw wasabi.
material
(For 10 people) Rice ... 1 kg, salmon (Aramaki) ... 2 to 3 pieces, how much ... about 200 g, grilled ... 1 to 2 pieces, white sesame ... 40 g, raw wasabi ... about 500 g, seaweed kelp ... about 8 cm, Sake ... a little bit light soy sauce ... a little bit
How to make
1. Wash the rice, add soup with kelp, add sake to the heat and boil it, take out the kelp and cook the rice.
2. Sprinkle a small amount of sake and light soy sauce. Prepare raw wasabi.
3. Make combined vinegar and make sushi rice.
4. Sprinkle a small amount of sake onto the bowl, heat it with a microwave oven or steamer, loosen it with your hand while it is hot, wash it with vinegar (wash over a little combination of vinegar for sushi rice) and squeeze it tightly.
5. When the sushi rice is cold, mix roughly 4 and the prepared raw wasabi and white sesame seeds.
6. Put the sushi rice mixed with ingredients in a bowl and make the chopped seaweed and salmon roe for temper.
Cooking point
1. Raw wasabi is primarily processed into a bottle, which is frozen and used constantly.
2. Sprinkling with sake and light soy sauce will give you a fresh taste. In addition, by washing the persimmon with vinegar, the smell of persimmon is taken and it becomes easy for people who do not like living things to eat.

Mutsuko Mochimi's "Mother's parent and child zushi"
Store name Ryokan Setoya
Place Iwaizumicho Monjicho 102
Telephone 0194-25-5126
FAX 0194-25-5648
Regular holiday Obon-year end
Explanation Provided by reservation system to those who use accommodation or those who use meals.
From 5,400 yen with half board.
Check in is after 17:00 and check out is until 10:00.