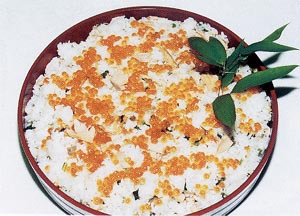 Certification year
1996
Type of certification
traditional Cousine
Main area
Miyako
Introduction of cooking
Besides this, there are many popular menus such as "Harako rice" and "Samon ice head". "Hiji" is a delicacy that when ginger's head is split into two, it is sliced with cartilage in the nose, squeezed a little with salt, and dipped in vinegar for 2-3 hours.
material
(5 to 6 servings) Glutinous rice ... 4 cups, sweet potato skewer ... 3 slices, sake ... small amount, salt ... small amount, milk ... 2 cups, salmon roe ... proper amount, sesame seeds ... little amount
How to make
1. Mochi rice is soaked in water the night before.
2. Boil the salt and remove the bones and skins, loosen the body and sprinkle sake.
3. Mix sake, milk and salt in a bowl and mix.
4. Put a steamer on the fire and when the steam comes up, spread a dish, add drained glutinous rice and steam for about 30 minutes.
Transfer 5.4 to a bowl of 3 and mix the whole well, mix 2 and put in a steamer again and steam for about 10 minutes.
Serve 6.5, sprinkle with sesame seeds, and decorate salmon roe.
Cooking point
1. By using milk, the raw smell of persimmon disappears and taste improves.
2. Please try edamame and corn instead of salmon roe as you like.

Ito Eiko's "Southern Nose Curved Salmon Dishes (Steamed Rice of Salmon)"
Contact Miyako City Tsugaruishi 12-37
Telephone 0193-67-2807
Explanation From September to February. If it is the neighborhood business trip demonstration.