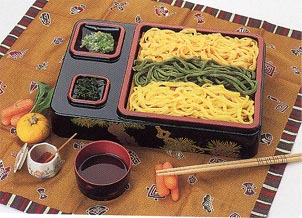 Certification year
2000
Main area
New local food
Main area
Ichinoseki
Introduction of cooking
Three-colored udon mixed with pumpkin, carrot and spinach.
material
(For 5 people) Flour (ground flour) ... 300 g (separately, flour at the time of rolling with a rolling pin), egg ... 1 cup, salt ... 3 teaspoons, pumpkin (grated) ... 50 g, carrot (grated) ... 50 g , Spinach leaf part (boiled) ... 50 g, seasoning ... a little bit, a little green leaf ... a little bit Mentsuyu Water ... 2 cups, soup stock kelp ... 4 cm, scraped section ... 3 g, soy sauce ... 3.5 tablespoons mirin ... 1.5 tablespoons
How to make
[Making soup first]
1. Take the soup stock with kelp and scraped bonito, add soy sauce and mirin in a quantity, and cool the boiled broth.
[Making udon]
1. Pumpkin is grated while weighing excluding skin and seeds, and prepare 50 g of juice.
Add a third of the egg, 1 tsp. Salt and 100 g flour and knead by hand. (Knead until the dough is firm enough to the earlobe)
3. Ginseng peel off the skin and grate as in 1. Add one-third egg, 1 teaspoon salt, 100g flour and knead well.
4. Boil the spinach leaves, expose to water, and use 50 g of mortar. As in 1 and 3, roll up and put on a lap and let it sit for about 10 minutes.
Grab the ingredients of 5.1, 3 and 4 with a rolling pin, fold it and cut it into 5 mm wide.
6. Boil the hot water in a large pot and cut the boiled udon into a boil. Feed water on the way, and if it gets cold, expose it to running water and give it to you.
7. Assorted three color udon in a bowl.
8. Serve with small square of green onion or shredded blue shiso, and serve with simmered noodles.
Cooking point
1. If you add udon to seasoned deep-fried tofu (small), it will be easy to eat like Inari sushi and it will be popular with children's snacks.
2. We added green and yellow vegetables for coloring and nutritional consideration.
3. Knead the flour with only the water and eggs of the vegetables. Pumpkin is different in water content depending on the breed, so increase the dough if it is hard. Summer ginseng is pale and autumn is dark.

Toshiko Takeda's "Sancho Udon"
Contact Ichinoseki City Hanasencho Yushima Hijikata 24
Telephone 0191-82-4543
Explanation Demonstration in Iwate Prefecture anywhere, 2 weeks before reservation required.