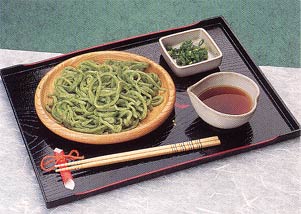 Certification year
2000
Type of certification
New local food
Main area
Kuji
Introduction of cooking
Hand-made udon with spinach
material
(For 4 people)
[Horin sou noodles] flour (Iwate local flour) ... 400 g, spinach ... 150 g, salt ... 2 teaspoons, salt water (salt ... 1/2 teaspoon, water ... 3/4 cups)
[Boiled soup] Boiled water ... 20 g, dried bonito ... 20 g, soy sauce ... 2 tablespoons (in summer, dark mouth,
Winter is thin □), mirin ... 1 tablespoon of sake, sake ... 1 tablespoon [Mediment] green onion, ginger, pickled plum, gyoza, wasabi etc
How to make
1. Wash the spinach well, sprinkle salt, lightly boil it with plenty of hot water and soften it, and remove the cold water. Chop it into a mortar, add 2 teaspoons of salt and rub, drain with apricot monkey.
2. Put the flour in a bowl and squeeze the center of the bowl, add 1 spinach and salt water, and stir it while mixing. The amount of salt water is adjusted with spinach water. Put it together, put it in a plastic bag and roll it for about an hour at room temperature.
Use a rolling pin on a floured table to thin the dough from 3.2 and fold it, and cut it into thin pieces with a knife.
4. Put in boiling water, loosen 3 noodles, simmer again, simmer for about 3 minutes, take to running water and wash well.
5. Take a soup stock with simmered and dried bonito, and combine the boiled mirin with sake and soy sauce to make a sauce. In summer, we use concentrated soy sauce for sour udon, and in winter use light soy sauce for udon.
6. Prepare the seasons seasonal, chill in the summer with noodles and cool in the winter.
Cooking point
1. Udon knead for at least 10 minutes until it is elastic, and it will stretch better if you let it go.
2. Make sure that the spinach is well-colored and stalked so that the color does not become too dark.
3. Boil udon on high heat.

Shimonotome Tsune's "Horin so udon"
Contact: Kuji City Yamagatacho Kawai 7-49
Telephone 0194-72-2521
Explanation If it is Yamagata-cho neighborhood, demonstration is possible.