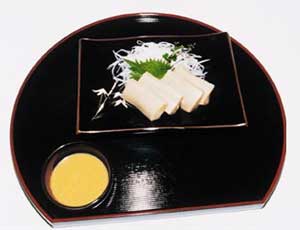 Certification year
1996
Type of certification
traditional Cousine
Main area
Oshu
Introduction of cooking
"Walnut tofu" is a special dish of Esashi, and it has always been made as a substitute for sashimi during shojin dishes such as trays and rituals. It is generally served with daikon radish slices, and it is generally used to add sweet miso paste with ginger juice if you like. Instead of pouring it, it is ready to make tea.
material
200 g of Walnut, 200 g of Yoshino waste, 400 g to 500 g of sugar, 1 teaspoon of salt, 1,800 cc of water (2,000 cc in winter)
How to make
1. Rub the walnuts well in a mortar, pour in water and scrub.
2. Put rubbed and Yoshino scraps and sugar in a pot and stir, and if the scrap powder is melted, put it on fire.
3. Stir in a spatula for about 10 minutes in a medium heat, weaken the fire if the whole is thick and firm, lightly mix well (about 20 minutes), add salt and finish.
4. Put in a water-wetted sink and cool. It solidifies in 4 to 5 hours at normal temperature.
5. (Materials for sauce) 200g miso, 2 tablespoons sugar, 3 tablespoons ginger juice, 1 tablespoon sake, water Mix well ingredients.
Cooking point
1. Kurumi has a good onig.
2. The point of making is to make the walnuts better. The amount of water is different in summer and winter.
3. Stir in the heat, but if the whole comes to solidify it will weaken the fire and put in force and knead well.

Erika Sasaki's "Walnut tofu"
Contact: Oshu-shi Esashi-ku Fujisato Terada 29
Telephone 0197-39-3455 (FAX)
Explanation Demonstration in the Esashi Local Culture Museum Experience Building (10-20 people). Reservation required 7 days in advance.
Related site http://www.esashi-iwate.gr.jp/bunka/