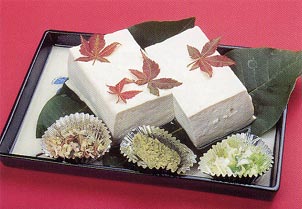 Certification year
1997
Type of certification
Specialty products
Main area
Tono
Introduction of cooking
It is a tofu that is made from locally produced good-quality soybeans and is particular about nigiri.
material
(400g for 30 minutes)
Soy (white-eye long leaf) ... 3 drops, antifoaming agent ... 3 tablespoons, bittern ... 90 g, water ... 8 liters
How to make
1. Rehydrate soybeans in water. (Summer 10-14 hours, winter 20-24 hours)
2. Crush the boiled soybeans and simmer (20 minutes to 30 minutes). Boil the bubbles so that they gather in one.
3. Rub, add garlic, put in a box and drain (20 minutes). When mixing and stirring garlic, it is soft if it is mixed well. If you mix finely, you can make a firm tofu.
4. Separate and expose to water.
Cooking point
1. We select and study soybeans suitable for tofu processing, and cultivate by unifying varieties. (Especially, we are cultivating soybeans in Takusakuda and working on processing)
2. Soy uses 100% locally produced soya.
3. The texture of tofu, etc. processed using natural bittern etc. is evaluated as extremely delicious.

"Handmade Tofu" of Yoneda Life Improvement Group
Store name Roadside station "Miyamori" glasses bridge direct sale place
Place Tono City Miyamorimachi Shimomiya Mamoru 30-37-1 (along National Route 283)
Telephone 0198-67-2929 (FAX)
HP address http://www.thr.mlit.go.jp/road/koutsu/roadstation/iwate/iw13.html
Business day / Opening hours April-September 9:00-18:00 October-March 9:00-17:00
Regular holiday 3rd Wednesday of every month
Explanation "Yoneda no kachan tofu" 400 g 120 yen, tofu sale is only every Saturday, handmade miso 800 g 450 yen