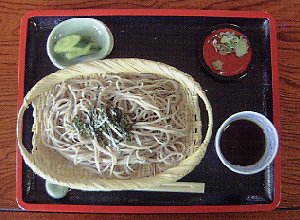 Certification year
1996
Type of certification
traditional Cousine
Main area
Ninohe City
Introduction of cooking
In this region where rice has low elevation, buckwheat has been devised as a daily food instead of rice. Above all, home-made soba is indispensable for ceremonial occasions.
material
(For 10 people) 1 kg of buckwheat flour (including flour), 1 cup of hot water, 1 cup of water
How to make
1. Take flour from buckwheat flour and divide into two.
2. Sprinkle boiling water on one side of buckwheat flour, stir with a chopsticks, combine into small mochi and keep separately.
3. Put water into the other buckwheat flour and combine into a small rice cake as in 2.
Combine the two rice cakes of 4.2 and 3 and knead with the remaining powder. Put your strength quickly.
5. Cut lightly.
6. Put 5 in plenty of boiling water and stir, and if it comes up, take in cold water.
Cooking point
1. Be careful about how to prepare buckwheat flour and how to boil it.

"Hand-made soba" by Kayo Yoneda
Store Name Yoneda Kobo "Sobae"
Place Ninohe-shi Shimo-Doto American character crosses 24-2
Telephone 0195-23-8411 (FAX)
HP address http://www.iwatetabi.jp/spot/detail/03213/1403.html
Business day / Business hours 11:00 to 17:00
Regular holiday Every Friday
Explanation "Zaru soba" 700 yen is popular. Buckwheat flour 100%. The soup uses homemade soy sauce. There are also "Region Set 1,500 yen" and "Sobae Set 2,000 yen" for reservations. We also offer soba making experience and business trip demonstrations (requires a reservation).