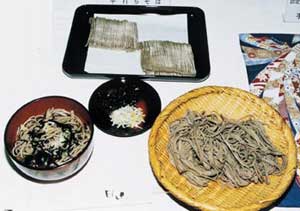 Certification year
1996
Type of certification
traditional Cousine
Main area
Karume town
Introduction of cooking
At the time of the ceremonial occasion, when it comes to the end, it means that it will open. The meaning of being sober over the New Year is to live thinly and long. We eat in winter without being particular about events.
material
(13 meals) 1 kg of buckwheat flour, 2 eggs, 1 cup of wheat flour, 1 cup of boiling water, 1 cup of water, for sauce
How to make
1. Mix flour with buckwheat flour. Then pour hot water and quickly mix well with flour.
Add the eggs to 2.1, add water, and knead until the earlobe is firm.
3. Spread flour to 2mm while spreading flour on the batter.
4. Fold it in half from the front, then fold it in half from the other side, and fold it again from the front.
5. Boil the buckwheat with plenty of boiling water. When it rises, take it out and wash it with water and give it to the colander.
Cooking point
1. Since the finish depends on buckwheat flour, we try to use freshly ground buckwheat flour as much as possible. Pour hot water and eat well, and add egg solution and knead it.