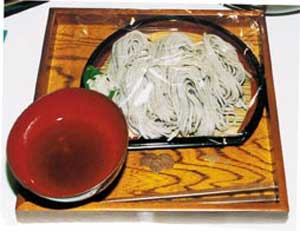 Certification year
1996
Type of certification
traditional Cousine
Main area
Ninohe City
Introduction of cooking
In this area where buckwheat is low, buckwheat has been devised as a daily food instead of rice. Above all, home-made soba is indispensable for ceremonial occasions.
material
(15 people) buckwheat flour 1 kg, 2 cups of hot water, 1 cup of water
How to make
1. Boil the whole buckwheat flour and boil it until it becomes crispy.
2. Next, pour in water. Put your strength and knead well.
3. Cut thinly.
4. Put 3 in plenty of hot water and boil while boiling with boiling water.
5. For cold water, flush with water.
Cooking point
1. Take extra care when kneading and soaking the soba.

"Hand-made soba" by Shizuko Miura
Store Name Kitchen Garden
Location Nichito-shi Komaga-ji sea-coast Maeda 6-13
Telephone 0195-38-4936 (FAX)
HP address http://www11.ocn.ne.jp/ ̅k- garden /
E-Mail k-garden@axel.ocn.ne.jp

Business Day / Opening Hours March-October 8:30-18:00 November-February 8:30-17:30
Regular holiday January 1 to 3
Explanation "Hand-made soba" 2 balls 300 yen, reservation required. We sell other handmade sweets.