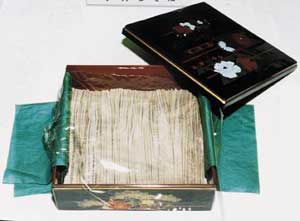 Certification year
1996
Type of certification
traditional Cousine
Main area
Ichinohe
Introduction of cooking
・ Somewhat buckwheat noodles ・ Color is a little black and tasteful.
material
(For 15 people) 1 kg of buckwheat flour, 1 cup of water bowl (200 cc), 60% of hot water (in consideration of the state of powder)
How to make
1. Soak the water in the buckwheat flour lightly, if it is soft, add hot water and knead well.
2. Quickly and carefully knead it, and spread it thinly with a plank.
3. Sprinkle buckwheat flour so that it does not stick and cut into about 8 pieces.
4. Boil the buckwheat noodles with plenty of boiling water and boil the buckwheat noodles. Boil them, stir with a chopsticks, boil it for a while and then cook for a few seconds.
5. Immediately put in water, replace the water 2-3 times and wash thoroughly.
6. If it is boiled, it is best to have it immediately.
Cooking point
1. Look at the condition of buckwheat flour and adjust the amount of heat.
2. If it is boiled too much, the buckwheat is soft and tasteless.
3. It may be mixed with buckwheat flour such as amaranth, cocoa, etc.