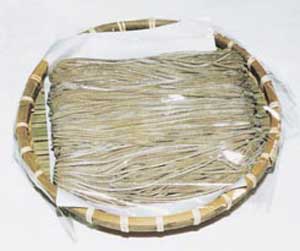 Certification year
1996
Type of certification
traditional Cousine
Main area
Kuji
Introduction of cooking
It is the most representative using buckwheat flour. It was made for occasional meals, good food, and garden conditions. In the past, people in the village helped with the making of soba early in the morning at the ceremonial occasion, and most people had the technology, but recently there are fewer people who can make it.
material
(30 balls) buckwheat flour 2 kg, 5 to 6 eggs, 1 tofu
How to make
1. Put buckwheat flour in a kneading bowl, add tofu in the middle, add egg, and mix up little by little from the middle flour.
2. When the whole is finished, break it into 3rd place and knead one of them on a plate.
3. If you knead well, try to break it longer. It is good that there is a season.
4. Stretch it out with noodles. When it is stretched to a thickness of 2 to 3 mm, it is folded and cut from the end. Boil immediately after cutting.
5. Boil with plenty of hot water and wash with cold water so that there is no slimy skin. If you wash well with cold water, buckwheat noodles are hard to grow.
6. Let the sauce have a mild taste of boiled and dried bonito.

"Hand-made soba" of the Naruya natural food society
Name of the store
Place Kuji City Yamagatacho Shimohata Narutani
Telephone 0194-75-2034 (facsimile job) (representative 7 part Tomi house)
HP address http://www.iwatetabi.jp/spot/detail/03207/1294.html
Business day / Business hours Open only if reserved
We also offer local dishes from Yamagata Town. Experience is also possible (reservation required).
Related site http://www.iwatetabi.jp/spot/detail/03207/1294.html