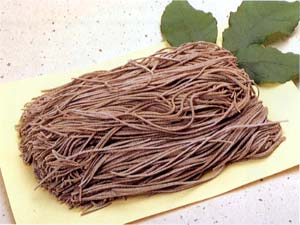 Certification year
1997
Type of certification
traditional Cousine
Specialty products
Main area
Kuzumaki
Introduction of cooking
It is characterized by being made with the old-fashioned method such as using powder ground with a water wheel.
material
(20 balls) 1 kg of buckwheat flour, 1 egg, 150 g of tofu (2/3 cho, 1 cup of super tofu), 150 cc of hot water
How to make
1. Place 2/3 kg of buckwheat flour in a large bowl, make a dent in the flour, add boiling water and make dumplings while boiling off the flour. Keep it sideways.
After the hole in the bowl, divide the egg, mix the flour and make the dumpling, loosen the fresh tofu as in the same way and mix the flour with the flour.
Mix 3.1 and 2 dumplings together and knead. If you have the hardness of the earlobe, cut it by stretching it with a stick.
Cooking point
1. Use noodles tofu.
2. Knead slowly and with grandma's feelings.
3. Thin cut.
4. Knead the flour slowly.
5. How to Boil Boil with plenty of boiling water. Place in a boil and when it comes up, boil for 10 to 15 seconds and cool with cold cold water.

"Soiled water mill soba" of the association of high family water turbine mother
Store name Soba shop in the forest
Place Kushimaki-cho Ekari 1-36
Telephone 0195-66-4111
HP address http://www.iwatetabi.jp/spot/detail/03302/1404.html
Business day / Business hours 11:00 to 16:30
Closed on New Year's Day
Description A water turbine provides fresh, beaten and boiled freshwater.
Yamazato set meal (Inakibi rice, fried soba noodles, wild vegetables, mushroom dishes, river fish) 1,200 yen,
Soba (zaru soba, mini soba, small bowl) ¥ 1,000 is a popular menu.