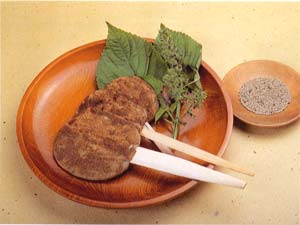 Certification year
1997
Type of certification
traditional Cousine
Main area
Hachimantai
Introduction of cooking
Boiled buckwheat and burn the miso paste with the mashed miso.
material
(11 servings) buckwheat flour 400 g, glutinous rice flour 100 g, dent 50 g, miso 50 g, sugar 50 g, chopsticks 11
How to make
1. (How to make Uchiwa bowl) Mix buckwheat flour and glutinous rice flour in a bowl. Save 30 g as flour from the mixed flour.
2. In the middle of the powder, pour 400cc (2 cups) of boiling water little by little and knead it into a mochi-like shape, and gradually put it in a moist and moist manner.
3. Cook 80 g of mochi-like in a bowl and make it into a round bar. Be careful not to let out the mochi from the tip of the brow.
4. While holding the flour that you saved earlier so that the rice cake is not stuck to your hand, press it with your hand and stretch it flat.
5. Boil the hot water in a pot and boil it in boiling water. Boil for 2 to 3 minutes, and float on the surface, and when the surface has popped up, pick it up on the wet cloth.
6. When the surface of the mochi is dry, bake it with ten miso paste on both sides.
7. (How to make it 10 pieces) Make a piece and make it finely.
8. Mix miso and sugar and loosen with water. (Don't pour too much water)
Cooking point
1. You can use only buckwheat flour so you can use glutinous rice flour as well, but you can use leftover rice in the form of rice porridge.
2. Use flour with rice that is slightly rich.

Tachibana Eiko's "Uchiwa Mochi"
Store Name Guest House Tachibana
Location Hachimantai City Hoshizawa 61-1
Telephone 0195-72-5221 (FAX)
HP address http://tachibana.appi-yado.net/
E-mail tatiken@cocoa.ne.jp
Explanation "Uchiwa Mochi" Small 80 yen, Medium 150 yen, Large 200 yen Reservation required 3 pieces 250 yen "Ichi Wamochi" "Soba Uchi" experience is also available. Hometown cuisine that makes use of mountain products and home-grown products 1,500 yen to 3,000 yen
Related site http://www.iwatetabi.jp/hotel/detail/03214/217.html
Name of store Appi Kogen direct sales center
Telephone 0195-72-6821
HP address http://www.nougyou.kitakami.iwate.jp/news/sanchoku/new_page_a15.htm
Business day/
Business hours May-mid-November (during the rest of the period), 8:00 to 18:00
Explanation "Uchiwa Mochi" Small 80 yen, Medium 150 yen, Large 200 yen Reservation required 3 pieces 250 yen "Ichi Wamochi" "Soba Uchi" experience is also available. Hometown cuisine that makes use of mountain products and home-grown products 1,500 yen to 3,000 yen