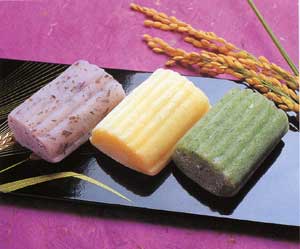 Certification year
2001
Type of certification
traditional Cousine
Main area
Yado town
Introduction of cooking
Beautiful rice flour sweets with sweet taste. In Yahori, this "Suma" has been made along with "Hina Manju" and "Kirishinso" at the Hina Festival. It is written as sweet, and it comes from its form, state-based sweets. State Hama is said to have started at a confectionery shop in Kyoto in the middle of the Kamakura period, and it is thought that it has been transmitted to the local cuisine of the home along with the times.
material
(8 bottles) Whip powder ... 500 g, sugar ... 300 g, salt ... a little, boiling water ... 2.5 cups (with plum vinegar, draw a portion of the soup), a piece of chestnut powder ... a little for coloring Yomogi (frozen) ... 30 g ... green, pumpkin (Powder) ... 30g ... yellow, pickled plum soup ... 100cc ... red, leaf of it ... 30-50g ... red ※ For coloring, the amount to be added to 500g powder respectively.
※ The type uses the type of cutting.
How to make
1. Put hot water on the powder and boil it.
2. Steam for about 20 minutes with a steamer.
3. Remove from steamer and pour into bowl.
4. Add sugar to a pestle while hot, and if it gets hot, knead with sugar in your hand.
Add 15 to 20 minutes while putting favorite coloring material in 5.4.
6. Put the sticks and put them in a mold sprinkled with potato starch. Once you have a mold, use a thread to cut it to the size you want.
Cooking point
1. Be careful about the steaming time.
2. The trick is to sprinkle sugar little by little while hot.
3. Use natural ingredients for coloring. Grapes are also pleasing.

"Tokuda (Tokuden) Suma" by Setsuko Tanaka
Contact Yado town Ogata Kitakoriyama 7-56
Phone 019-697-3297
Explanation Demonstration before delivery possible. Reservation required one week ago.