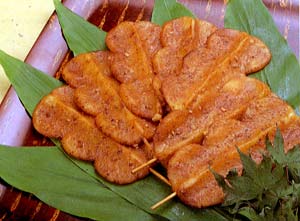 Certification year
1997
Type of certification
traditional Cousine
Main area
Hanamaki
Introduction of cooking
A type of rice dumpling that utilizes rice flour that has long been known in Towa in the south of the area. It is thinly stretched to form a military distribution fan, and baked with walnut jujube sauce.
material
(4 people or 8 bottles) 200 g of Walnut powder, 20 g of Walnut, 40 cc of soy sauce, a little of Mirin, 8 Bamboo Combs, 300 cc of boiling water
How to make
1. Put the flour in a bowl, stir in boiling water and stir in a bowl, and leave it in a wet towel for 3 hours to 1 night until it cools down.
2. Knead the egg well and break it into 2 pieces, round it up and put it in a bowl. Make a fan shape using palms and sticks on the table.
3. Put in a steamer and steam for 10 minutes.
4. Boil it with walnuts and soy sauce.
Cooking point
1. It is rice flour, but when it is boiled well, it will not get hard.
2. When it's steamed, it's easy to get cold water if you pour cold water, and the body of the dumpling is crispy and crunchy, and it's shiny.
As it is baked 3.2 degrees, taste tastes in dumplings well.
4. Make the way of cooking thinner.

Sei Kikuchi's "Ochamochi"
Store name Mahoroba no Sato product center
Place Hanawaki City Towa Town Tsuchizawa 6 Ward 107
Telephone 0198-42-2058
FAX 0198-42-2620
Business day/
Opening hours 9: 00-18: 30
Regular holiday January 1st to 3rd, 2nd Wednesday of every month
Explanation Ochamochi 5 pieces in 350 yen, 5 pieces in 5 pieces of rice cracker, 300 yen in 5 pieces of Daifuku
Remarks Hanawaki City Towa Town Dozawa every Saturday from 11:30 to 16:00
Hanawaki City Towacho Dozawa monthly 1st and 3rd Sunday 8: 30 to 10:30
Store Name A Corp Tow
Place Hanawaki City Towa Town Tsuchizawa 6 Ward 108-1
Telephone 0198-42-3118
FAX 0198-42-3529
Business day/
Opening hours 9:30 to 21:00
Regular holiday January 1
Explanation Ochamochi 5 pieces in 350 yen, 5 pieces in 5 pieces of rice cracker, 300 yen in 5 pieces of Daifuku