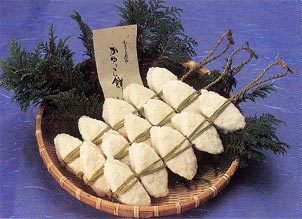 Certification year
1999
Type of certification
traditional Cousine
Main area
Nishiwaga
Introduction of cooking
Boiled rice and glutinous rice in a bowl, make it sticky, freeze it in the extremely cold season, and dry it.
material
(For 200 pieces) sticky rice ... 980 g (7 go), glutinous rice ... 420 g (3 go), sugar ... 100 to 120 g, salt ... 20 g
How to make
1. Wash the rice and put it in water for about 30 minutes.
2. Make rice porridge with 3.5 to 4 times the water of rice. Boil and simmer at first in high heat, then simmer slowly so as not to burn until low heat and no water.
3. Turn off the heat, add sugar and salt and stir well.
4. Remove the 3 layers of itch from the top with a wrap on icy material like tinplate, and make it into a shape.
5. Freeze on snow on a chilly night. However, be careful because it does not freeze if you put snow from above. Leave it for 3 days.
6. Weaving with straw and hanging under the eaves for about a month to dry.
※ Period to make until around mid-January. The day to make is watching the weather forecast and making a cold day.
Cooking point
1. The concentration of itch is the point of technology. If it is too thick, it will be difficult to remove from the spatula, and if it is too thin, the product after drying may be fragile.
2. Based on the left, put pumpkin, sesame, wormwood, coffee etc. and enjoy the variation.

Takahashi Mitsuko-san's "Itchy Child"
Store name Yume Plaza (Complex Type Chamber of Commerce)
Place Nishi-Wakamachi Kawajiri 40-73-11 (Hot Yuda Ekimae)
Telephone 0197-82-2214 (FAX)
HP address http://www.iwatetabi.jp/product/detail/brand/26.html
Regular holiday 7 days a week
Explanation 10 bags of 1 400 yen Freeze and dry the porridge. You can eat it as it is, burn it, or fry it. Morioka Station West Exit "Marios" Brand i, Kitakami Ekimae Globe also sold.