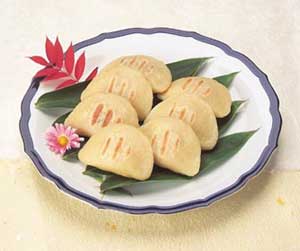 Certification year
1998
Type of certification
traditional Cousine
Main area
Tono
Introduction of cooking
A grilled mochi that can be eaten deliciously.
material
(30 pieces) [Dough] 1 kg of flour, 200 g of glutinous flour, salt Small Saji 2 [Miso bean sauce] 150 g of brown sugar, miso large saji 1, walnuts as appropriate
How to make
1. Add glutinous flour and salt to the flour and boil it in hot water for 5 times.
2. Add miso to brown sugar and add walnuts in chunks.
3. Break the dough in a suitable amount, shape it in a soft manner, and make a hollow for two fingers in the center.
4. Put 2 in the recess and close the mouth.
5. Boil in hot water and take out when floating.
6. Bake both sides to a slight burn.
Cooking point
1. Make sure not to get too much dough.
2. Walnut is used without breaking it in order to take advantage of the original taste.
3. We devise how to put miso sauce so that the dough is not broken.

Haru Kitaguchi's "Mochi grilled rice cake"
Name of store JA Life Center A co-op Tono store "productivity direct corner"
Place Tono City Matsuzakicho Shiroiwa 15-10-1
Telephone 0198-62-6600
FAX 0198-62-6602
Business day/
Opening hours 9:30 to 19:30
Regular holiday January 1 to 3
Explanation "Soybean paste grilled rice cake" with 3 pieces 300 yen, 5 pieces with 300 pieces of rice cake, 300 yen with wormwood Daifuku 3 pieces, 300 yen with 3 pieces of Kibi manju, 300 yen with 3 pieces of old manju
Remarks Order sales Home 0198-61-2423