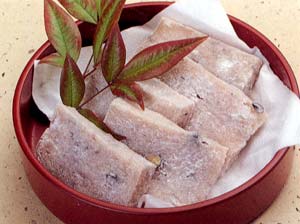 Certification year
1997
Type of certification
traditional Cousine
Main area
Oshu
Introduction of cooking
There is a wide variety of salmon dishes in the Mizusawa region of the US zone. Above all, the black bean-flavored soy sauce bowl has long been used as a snack and a small lunch, and it has been transmitted from the bowl to the bride in every house.
material
1 glutinous rice, 1 black bean, 1 g white sugar 300g, sesame flour, as appropriate, flour, salt, starch, a little
How to make
1. Put glutinous rice in water overnight.
2. Wipe the black beans and wipe in a frying pan.
3. Gently glutinous rice, drain the water, add roasted black beans and steam with a steamer.
4. After steaming glutinous rice for 9 minutes, put in the order of sugar, sesame and salt, and add water-soluble flour at the end.
5. Put starch powder in a box, shape well, cool and cut.
Cooking point
1. In order to bring out the smell of black beans, use after roasting in a frying pan.

Shizuko Shinohara's "Black Beans with Seasoning Bowl"
Contact Information 85-1 Sakurakawaji Matsudo Mizusawa-ku, Oshu-shi
Telephone 0197-24-7877 (FAX)
Description Available anywhere in Iwate Prefecture.