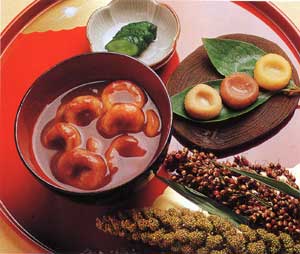 Certification year
2001
Type of certification
traditional Cousine
Main area
Ninohe City
Introduction of cooking
Rolled oyster paste, glutinous rice flour, and inakidani flour each and dent in the center and put it in boiled simmered soy sauce. The word origin is said to have been attached in the meaning of being similar to human's navel and having been "hard-fought" in farming work for one year.
material
(For 6 people) Octopus powder ... 1 cup, boiling water ... 50cc
Mochiwawa powder ... 1/2 cup, boiling water ... 40cc
Inanaki flour ... 1/2 cup, boiling water ... 30cc
Salt ... a little azuki beans ... 1 cup, water ... 4 cups, sugar ... 120 g, salt ... 1/2 teaspoon
How to make
1. Azuki soup: Azuki beans are put in water overnight and softly boiled in plenty of water.
2. Boil the red beans and add sugar and a little salt to make a small bean soup.
3. Dumplings: Add a pinch of salt to the millet powder, add hot water and mix, and knead it to firmness of earlobe.
4. When it rises, round it into a ball of about 2 cm and make a hollow like a belly with your thumb.
5.Mochialized flour and grated sweet potato flour as well as 1 and make them spherical and dent.
6. Put the simmered dashi into the azuki juice, and it will be ready when the dung comes up. It is delicious even if it gets cold a little.
Cooking point
We designed to enjoy the flavor of the miscellaneous grain using 1.3 kinds of miscellaneous grain. (Miscillaries have a unique bitter taste, but this is the fragrant taste of the cereal culture)
2. The hollow of the dumpling is tasted and easy to eat.
3. Loosen when making mince.
4. Keep sugar in a low level and cherish the flavor of materials such as oysters.

Takamura Tamiko's "Hecccho Kodango"
Contact Nito City Yonezawa character Araya 70
Telephone 0195-23-6591 (FAX)
Explanation This is a business trip demonstration using three types of cereals such as oysters, air bubbles and inaniki.
Related site http://www.pref.iwate.jp/kenpoku/nino_noukai/shokubunka/01721.html