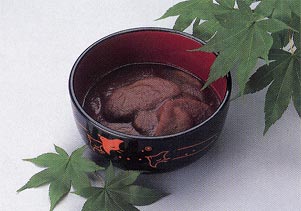 Certification year
1998
Type of certification
traditional Cousine
Main area
Tanobata village
Introduction of cooking
The potato is frozen in the cold, dried and powdered, combined with the flour to make dumplings, and put in soy sauce.
material
(10 servings) Potato powder ... 2 cups, flour ... 2 cups, boiling water ... 2.5 to 3 cups, azuki beans ... 200 g, sugar ... 2 cups, salt ... a little bit, hot water ... about 3 liters
How to make
1. Mix potato flour and flour together and boil with boiling water.
2. If you knead it well, make it into a stick, and cut it into 2mm thick leaves.
3. Azuki is dissolved like soup powder with 3 liters of filtered soy sauce.
Put the dance that made the leaf of the tree into the one of 4.3.
5. Add sugar and salt to taste, and heat it until the dance floats. It feels good and delicious.
Cooking point
1. Powder can be softened with hot water.
2. In addition to azuki bean paste, it may be made to be like a sweet potato soup with soy sauce by adding flour. In addition, it is made into a round shape after kneading flour, and it is delicious after it is boiled and then walnuts.
3. The potato powder is frozen in the cold season and peeled off, exposed to flowing water for more than 10 days, dried in the cold, and powdered with a mortar.
4. The more cold the cold, the more white it is. Also, if you do not have enough exposure to flowing water, you will still have a mess.

Sumo Nakamura's "Imodansu"
Store name Amu Saturday Market
Place Tanohatamura Chamber of Commerce
Telephone 0194-34-2304
Business day/
Opening hours From mid-June to November every Saturday 10:00 to 14:00
Explanation "Imodansu" A bowl of 100 yen A traditional dish in which potatoes are frozen in the cold, made into flour, and made into dumplings in combination with flour, and put into a soy juice.