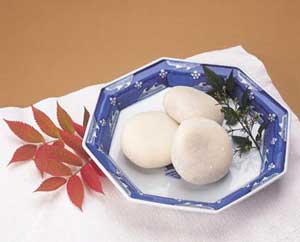 Certification year
1998
Type of certification
traditional Cousine
Main area
Yamada
Introduction of cooking
Dumplings made with rice flour.
material
(For 100 pieces) 5 kg of rice (ratio of 1 to 4 of perishable rice), 5 kg of azuki beans, 1 kg of rough rice, 400 g of white sugar, 40 g of salt
How to make
1. Soak rice flour and rice flour with water together and soak them in water for 1 to 2 hours, and drain and spread out and mill.
2. Put hot water over the whole powder, and when the powder is put in place, put a cloth on the skin until it reaches human skin.
Knead 3.2 well. Knead well until the dough is well-kneaded.
4. Boil the red beans softly. When it's cooked, I use a lot of water to make the fire a little bit stronger and add some rough. Once melted, add white sugar, salt and boil well until the water is gone, and make an ang.
Roll 100 g of the dough for 5.3, spread it evenly, and add the bean paste to make a dumpling. It is usually flat, and the Buddha makes round shapes.
6. Boil the water in a pot and add the dumplings when it is boiling. Mix with a spatula so that it does not stick to the bottom of the pot.
7. If the dumplings are floating, pour in cold water and line up on a wet cloth and dry. Return and dry the other side. At this time, I am scolded by the fan.
8. Once dry, sprinkle with starch and flour.
Cooking point
1. How to prepare azuki bean paste is important. Water remains and it is soft and the skin of dumplings is fragile.
2. How to make dumpling dough (skin) is the most difficult, and the powder itself is fine-grained. Use boiling water, but keep it cool on your skin so as not to touch the air. Knead well.
3. Wrap in cloth and put in styrofoam and soft until the next day.

Sato Minori's "Dango"
Contact Home 0193-86-2670
Name of the store Roadside station "Yayama" (contact park Yamada) Yamada-cho special product sales cooperative
Place Yamada town Funakoshi 6-141 (along National highway No. 45)
Telephone 0193-89-7025
FAX 0193-89-7026
HP address http://www.thr.mlit.go.jp/road/koutsu/roadstation/iwate/iw16.html
Business day/
Opening hours 9:30 to 18:00
Regular holiday Fixed holiday
E-mail fureai@rnac.ne.jp
Explanation "Dango" 3 pieces 300 yen, Hyun 3 pieces 300 yen