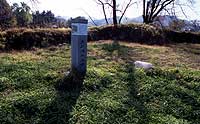 Overview
Kuchinoh Castle was the hometown of Masato Kuchinohe, who is the main body of the southern family.
From the successor problem of the southern part Muneya to the 26th southern part Nobunaga and confrontation, Tenyo 19 (1591) Dispatch request of Notoyoshi Hideyoshi Toyotomi Hideyoshi's dispatching armed forces Yayoi Gojo, Asano Nagamasa, etc. The political facts were executed.
After this battle, the southern part Nobunao repaired the castle and moved from Aomori prefecture to Sanno.
After Morioka Castle, the castle was left, but it became a ruined castle in 1163 (1634).
Kutojo Castle is surrounded by Fukaya of Mabuchi River, Shirakawa River and Nekosu River in the west, north and east respectively, and in the south is dug up in the air of the Nami-dori expedition, Honmaru, Ninomaru, Matsunomaru, Wakasakan -A transitional castle moving from a mountain castle consisting of Ishizawakan to Hirayama Castle, a large-scale thing seen in the Tohoku region rarely, and at that time it was an unrivaled castle.
Currently, it leaves traces of moat, ax and stone wall.
Kutojo Castle is the site of the last battle of Toyotomi Hideyoshi, and this battle is the historic site where the Oshu region was decided at the end and national reunification was finished.
image