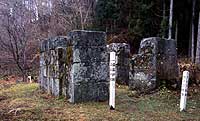 Overview
This historic site is the remains of three western-style blast furnaces built under the guidance of Oshima High School during the Ansei year.
In addition to the blast furnace, a total of 10 seats were constructed under the guidance of a large number of high quality iron ore areas, with 2 seats in Ohashi 3 seat, 2 seats in Sari, 1 seat each in Kuribayashi and Sunagoto.
These blast furnaces are made of iron ore and are the first type of blast furnaces in Japan that succeeded in producing pig iron.
As the only cultural heritage in Japan's iron industry development history, the significance of this remains is truly great.