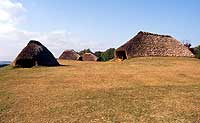 | | |
| --- | --- |
| Pseudonym reading | Scarecrow |
| Specified type | Country designation |
| Type | Historic site |
| Designated date | July 14, 1977 |
| Specified details | |
| quantity | |
| location | Kitakami city Inasecho Oyachi, Mizukoshi |
| owner | Kitakami |
| Holding group | |
| Management organization | Kitakami |
| home page | |
Overview
A stone circle remains (a stone circle) has been found at a Jomon period ruin on a hill sloped to the southwest with an elevation of about 100 m on the east coast of the Kitakami River.
The distribution stone remains were found in several places.
There are several types of stone distribution.
A circle of stones placed in a circle around Tateishi, a circle of stones placed in a circle on the front of Tateishi, one distributed radially around Tateishi, one distributed in a circle without Tateishi, Etc.
The date of creation is presumed to be in the middle of the Jomon period according to the excavated remains, and its character is considered to be a tomb.
In the vicinity of the stone distribution remains, there are a wide range of relics-included sites with residence traces from the end of the Jomon period to the end of the Middle and Late Periods.
Excavated artifacts include earthen products, earthenware, earthen, ring-shaped earrings, stamp-shaped earthen products, stone products, stone pots, stone pots, stone dishes, stone weights, stone rods, stone accessories, etc.
In the middle to late Jomon period ruins, stone monuments and pit dwellings are found, making it an unparalleled valuable site.
Stone building and pit dwellings are restored by 501 maintenance project that started in 1992, and it is open to the public as a history park with a guidance facility.
image