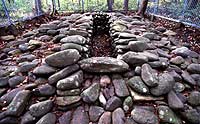 | | |
| --- | --- |
| Pseudonym reading | Ezuri here |
| Specified type | Country designation |
| Type | Historic site |
| Designated date | September 10, 1979 |
| Specified details | September 10, 1959 (additional designation March 24, 1959) |
| quantity | |
| location | Kitakami city Ezuriko Waka-cho |
| owner | Outside Kitakami city |
| Holding group | |
| Management organization | |
| home page | Kitakami city (Ezuko old tomb group) |
Overview
Located on the hill.
The shape of the mounds known by Zhou is round with a minimum diameter of 6 m and a maximum of 15 m, usually 7 to 8 m, the width of the mound is 1 to 1.5 m, and the height of the mounds is around 0.7 to 1.2 m.
Enclosed soil is about to cover the stone chamber.
Inside the mound is a sidehole stone crock chamber.
It is built with small slender Kawahara stones, and the size of the inside of the stone chamber is 2 to 4 m in length, around 0.7 m in width, and 0.6 to 1.3 m in height.
There is one standing stone in the back wall.
Standing stones are seen from side to side on the side walls, and stones are placed on the floor between the left and right standing stones to divide the stone chamber into three or four parts.
As for burial goods, armor tools such as swords, straight swords, swords, iron hammers, agricultural tools such as iron hammers and iron hammers, balls such as jade balls, cutting balls, glass balls, earth balls, etc. doing.
It is a group of circle tumuli in the late second half of the Kofun period, which has a sidehole type of stone, and is important as a group moth in the northern end of the Tohoku region.