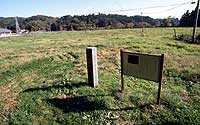 | | |
| --- | --- |
| Pseudonym reading | New Year's Eve |
| Specified type | Country designation |
| Type | Historic site |
| Designated date | February 22, 1978 |
| Specified details | |
| quantity | |
| location | Kitakami City Araki |
| owner | Outside Kitakami city |
| Holding group | |
| Management organization | Kitakami |
| home page | |
Overview
It is a village mark from the end of the Jomon period to the end of the Jomon period, located in the top of a tongue-like plateau projecting from the Kitakami River, in Kitakami city, Araki.
According to a survey in 1977, the whole area of about 2 ha was found to be the pillar holes and residence holes in the Jomon period.
What attracted particular attention was the large circular residence trace of 13.5 m in diameter at the end of the late Jomon period, and three places of earth and sand that belong to almost the same time, nose, mouth and ears that seem to be parts of earthen mask It is a discovery.
These earthen mask parts are excavated from the ground that seems to be a grave and from the ground that seems to be discarded storage holes, and parts of the mask of the dead or the parts of the mask and doll used for the festival are also imaginable It was done.