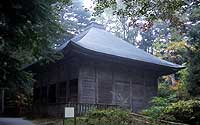 Pseudonym reading
How is it covered?
Specified type
Country designated / important cultural property
Type
Building
Designated date
April 5, 1931
Specified details
quantity
1 building
location
Hiraizumi-cho Hiraizumi character clothing
owner
Golden House
Holding group
Management organization
Chusonji Temple
home page
Hiraizumi's cultural heritage
Overview
Between the five, single layer, treasure-shaped construction.
The roof was originally a gutter, but later it became a gable and now it is a copper plate gutter.
It is an annex built to protect the national treasure and the golden hall from the wind and rain.
As a result of the excavation survey, it has become clear that it has not been in the form of an annex as it is from the beginning, but has been gradually developed and maintained from an extremely simple covered roof type to an annex.
The modern temple is a very simple structure and design in view of the nature of the building, and it is a building with few features, but it is presumed that it does not go back around the middle of the Muromachi period from the eaves and the detail method of Toho.