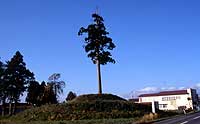 Overview
It is located in the central part of the river fan, in the paddy field along the prefectural road Suizawa and the cruciform line.
It is also called Ipponsugi because there are cedar independent trees on the hill.
As a result of range confirmation investigation, the main shaft length 44.5-44.6m, back circle part diameter 28.3m, front part length 16.1 to 17.3m, width 15-16m, back circle part maximum relative height 4.3m, front part maximum relative height about 1.5 It was m.
The area surrounding the mound is ovate-shaped, with a width of 9 to 10 m at the back circle, a depth of 0.3 to 0.5 m, and a narrow width at the front.
It is bare digging and it has not been pasted or pasted.
A lot of fragments of the shape wheel were excavated from Zhouzhuang, mixed with many cylindrical wheels.
The shape of the burial mound is the lower part of the fore part of the fore part, but the mound formation and internal structure are unknown because it has not been investigated.
The age of the tombs is estimated to be from the 5th century to the beginning of the 6th century.
Kadozuka Tomb is the largest and oldest tumulus in the existing prefecture, and it is the only one in the prefecture and the most northern part of Japan in the fore-and-tailed circle with the mochi ring.