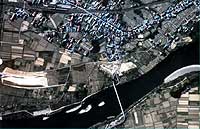 | | |
| --- | --- |
| Pseudonym reading | Yanagi no Shosho ・ Hiraizu Irises |
| Specified type | Country designation |
| Type | Historic site |
| Designated date | March 5, 1997 |
| Specified details | H16.9.30 (addition) H17.7.14 (addition and name change) |
| quantity | |
| location | Hiraizumicho Hiraizumi Characters Yanagio and others |
| owner | Tomohiro Komatsu |
| Holding group | |
| Management organization | Oshu City (part) |
| home page | Hiraizumi's cultural heritage |
Overview
Mr. Okushu Fujiwara The base of the third generation, the northeastern part of the central area of Hiraizumi-cho, Iwate Prefecture, is on the plateau facing the Kitakami River.
As a result of the excavation survey conducted in 1988, the remains that form the political center of the Hengshun era in the late 12th century have been confirmed.

It is an important remains in order to know concretely the appearance of the control base in the Tohoku region in the process of establishing the warrior society.